Home » USB branding »
Why Branded USB Sticks are the Perfect Travel Allies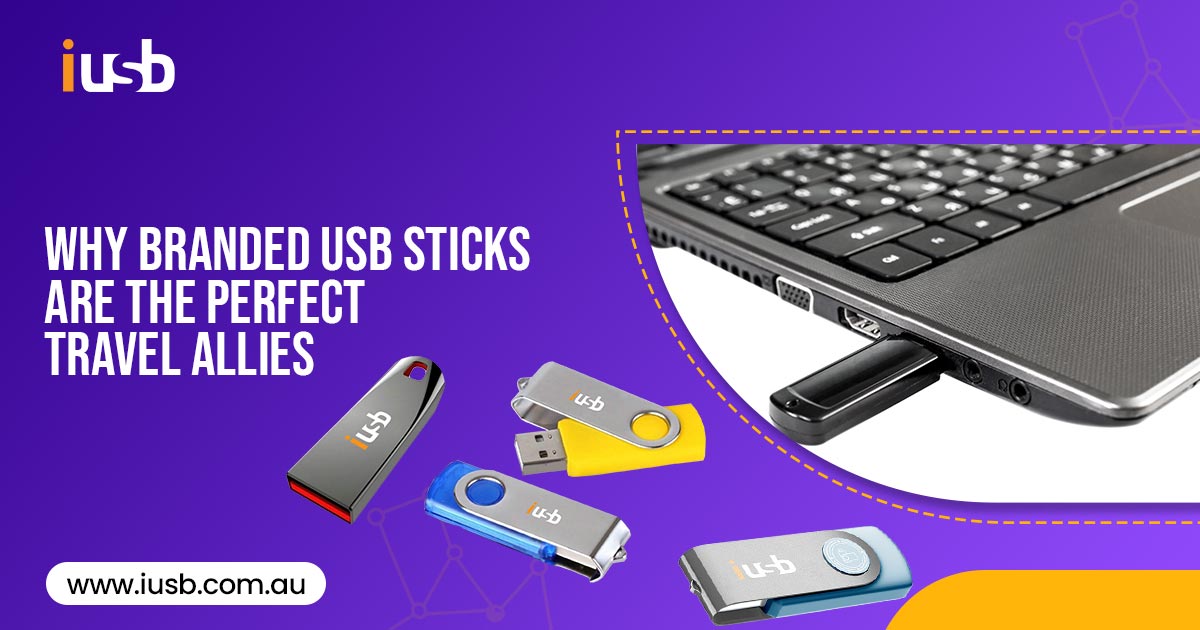 In today's world, travelling across countries, continents, and oceans, whether for pleasure or work, has become accessible and common. And what is the one thing that we carry everywhere with us while travelling? It is data! Data in the form of travel documents, business papers, entertainment files, images, etc. If you lose a hat or a book while travelling you can buy another but data is not always replaceable. This is why custom USB sticks make the perfect travel companions.
In what ways can we use branded USB drives during our travels? Are they useful only for storing data? Read on to find out the multiple uses of custom USB sticks that make them a must-have on our travels.
Uses of Custom USB Drives While Travelling
Whether we are travelling for a vacation or on a business trip, custom USB drives are useful in several ways. These handy devices can hold a large amount of data up to 1TB and can be carried around safely. Branded USB drives are especially useful when you cannot fully rely on the network connection, it could be either because you are travelling by road or are travelling to a country where the data rates are high, or other similar reasons. There are now so many options available for custom printed USB drives that make a trendy and cool accessory to have on your travels. Now that we have established why you must carry a USB stick on your journeys, let us see the different ways in which you can use them while on a trip.
Digital Backup for your Travel Documents
When we travel, we need to be most careful about our travel documents. It is a very practical idea to carry copies of flight tickets, hotel vouchers, travel insurance, etc. on a USB stick. Even if you need printouts, it becomes easy to go to a local shop and get a printout from the USB drive.
You can also use custom USB drives to store copies of important documents that you need to carry while travelling abroad, like passport, driver's license, and credit card. Having a backup on a USB stick helps in case you lose one of these documents. Especially in case of a lost passport, if you show a copy on a USB stick, it can help the consulate process the replacement faster. Branded USB drives also allow you to encrypt the files stored on them hence keeping your valuable documents secure.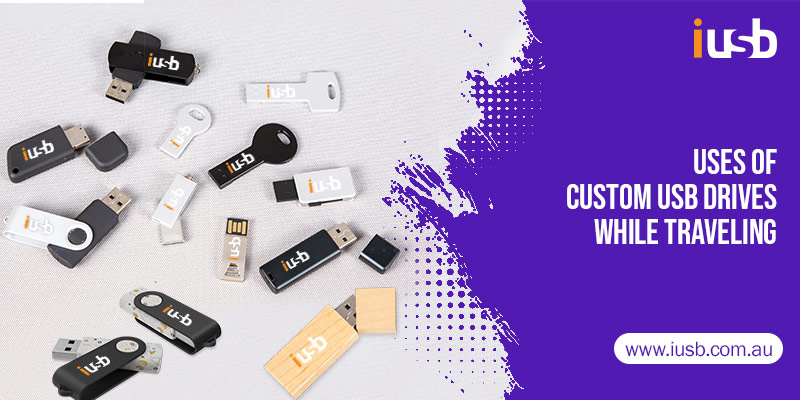 Acts as a Boot Device
A lesser-known use of custom USB drives is of using them as boot drives. You can carry your OS files on the stick and use them to boot the OS on your laptop in case it gives you trouble on your trip. This comes in very handy when your laptop malfunctions and you don't know a reliable place to take it for repairs.
Other than OS files, you can also store your favorite programs and apps on a USB stick. So, wherever you travel you need not miss working with applications that you feel most comfortable with whether it be for word processing or presentations or image editing.
Entertainment Drives
Coming to the lighter side, all of us need entertainment while traveling whether it is watching movies on a long flight, listening to our favorite music while relaxing in the room or playing our favorite games at the local café. You can carry all these along in those finger-sized branded USB drives and enjoy them on the move.
Storage for your Photos
We all love to click photographs on our travels and with digital devices, we can be "shutter-happy". We can exhaust storage on our camera before we realize it. With custom USB sticks you needn't worry about running out of space. You can transfer all the images on a USB stick and worry about editing and choosing once you are back home.
Encryption and Locks
Did you know you can use your USB drive as a lock for your laptop? With third-party software, you can turn your USB drive into an access control device. Your laptop will not be accessible till the USB stick is inserted and used to unlock the laptop. This gives added security for your laptop on your travels.
Another lesser-known feature of branded USB drives that can be very useful is that they can be partitioned. This means that the storage on the USB stick is divided into parts that can be accessed separately on your laptop. This can be used when you want to create a bootable USB drive or when you want to store confidential data in one part and encrypt it or when you need to share a USB drive with other people.
In conclusion
When you travel, you can carry a digital backup of your waist pouch, camera, and office bag in tiny USB sticks. This makes branded USB drives one of the most useful travel accessories. And what's more, you can travel in style by choosing out of the many branded USB styles available in the market today.
If you have a trip coming and want to buy a USB stick or you want to gift custom printed USB drives, you can find your style at IUSB. We offer our customers the best range of USB sticks at the best price. We can do short runs as well as take bulk orders for custom USB sticks. You can pick from any of the styles on our catalog or you can let our design team know what you are looking for specifically. We promise not only the best quality in our work but also fast delivery of your orders.