Home » custom USB »
Creative Uses of Custom USB Drives That May Surprise You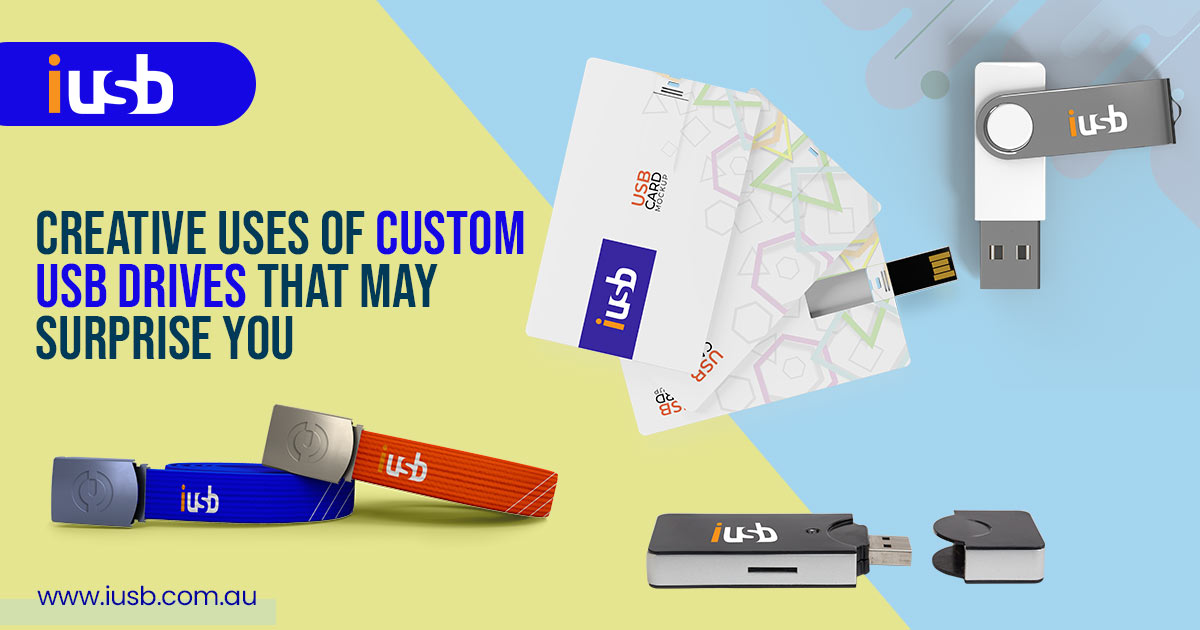 Through various apps and portals, we use the cloud extensively to store and transfer data. But still, you might have a box of USB sticks on the table and find yourself digging into the box for one often. The handy, fit-in-the-palm-sized USB drive has more than enough things going for it and is nowhere close to being kicked out by the cloud.
The very fact that custom USB drives are finding huge favour with users is testimony to the fact that these memory sticks still have many uses.
Custom flash drives are used to make a statement, whether it be for promotion or to express creativity, or just as a unique gift. This is because with custom USB drives you not only get something individualistic but also something that can be used extensively.
What is the difference between the USB drive and the cloud?
A USB drive is a physical device used primarily for data storage and is accessed by connecting to a USB port on a computer. The most common type of USB drive is the handy flash or thumb drive which comes in varying storage capacities ranging from 512MB to 1 TB. The branded USB drives come in different designs and colors and personalized USB sticks are also very popular.
The cloud refers to the collection of remote servers that are used for data storage. These servers are accessed over the Internet and their services are offered by different companies and products. Most companies offer some amount of storage on the cloud for free and start charging once that limit is exhausted. Despite this, the USB stick is still a popular storage device. Let us see why this is so.
Uses of USB drive
People at home and in offices, even in current times, often find themselves reaching out for a USB stick. There are many reasons for this:
You don't need the Internet to access data stored on a USB stick. This makes it a useful device especially when you are on the move and are unsure of a steady network connection.
A USB stick can be used not only for storing and transferring data but also to store portable apps. So you can carry not just your important documents on your personalized USB sticks but also your favorite browser, games, messaging apps, etc. which you can then run from the USB stick anywhere.
Not just apps, you can load and install any operating system from a USB stick. If you are particular about the OS you want to work on, your personalized USB stick becomes a powerful tool for you.
Using certain tools, like Predator, you can convert a USB memory stick into a lock for your laptop. So, you can have your fancy custom flash drive without which no one can access your laptop.
With the faster USB 2.0 and 3.0, you can also use a USB flash drive to improve the performance of your Windows. The computer can use the USB drive as a cache if it is faster than the computer hard drive.
Last, but not least, since the USB drive is a physical device you can customize it creatively and use it for various purposes like promotion, gifting, or even just as keepsakes.

Creative Uses of custom flash drives
Expanding on the last point in the previous section, let us see how we can put USB sticks to creative use. While you can purchase standard branded USB drives in the market, there are many reasons why you would want to look at the option of custom flash drives. Let us look at a few.
Being a compact device that has immense uses too, the USB stick lends itself well to the purpose of a promotional giveaway. They can be given as corporate gifts or as part of the welcome kits at a conference or any avenue where you want to make your company logo visible and market your product. You can get creative with the shape, material, and design of these printed USB drives. You needn't even stick to the standard 2D shape – you can design a 3D, printed USB stick that mimics your company or product logo even more closely. With their high utility value, these custom flash drives can become easy vehicles for instant brand recall and high visibility.
Personalized USB sticks make for wonderful gifts to loved ones. You can not only customize the look of the memory stick, you can also customize the content that you choose to gift on the stick. They can hold music, videos, images, or even your loved one's favorite game. Add your personalized design to the custom USB drive and you have created an awesome gift!
Even if you don't want to promote anything or gift anyone, personalized USB sticks can be a wonderful and unique expression of your individuality. If you have a USB stick that you are using as a laptop lock or as storage for your favorite games and apps, you can make it interesting by using custom flash drives.
To conclude
USB sticks are handy for several reasons despite the increase in usage of the cloud for data storage. Being physical devices, they can be creatively customized and used for promotion, gifting, expressing individuality, etc. If you are looking for custom flash drives head to iUSB to get the most creative designs at reasonable costs.
We customise according to your taste and designs with a wide variety of colours. At iUSB, we also have some unique patterns that can surprise your clients and bring a smile on your loved one's face.