Home » Uncategorised »
Branded USB sticks are the best business promotional item, learn why!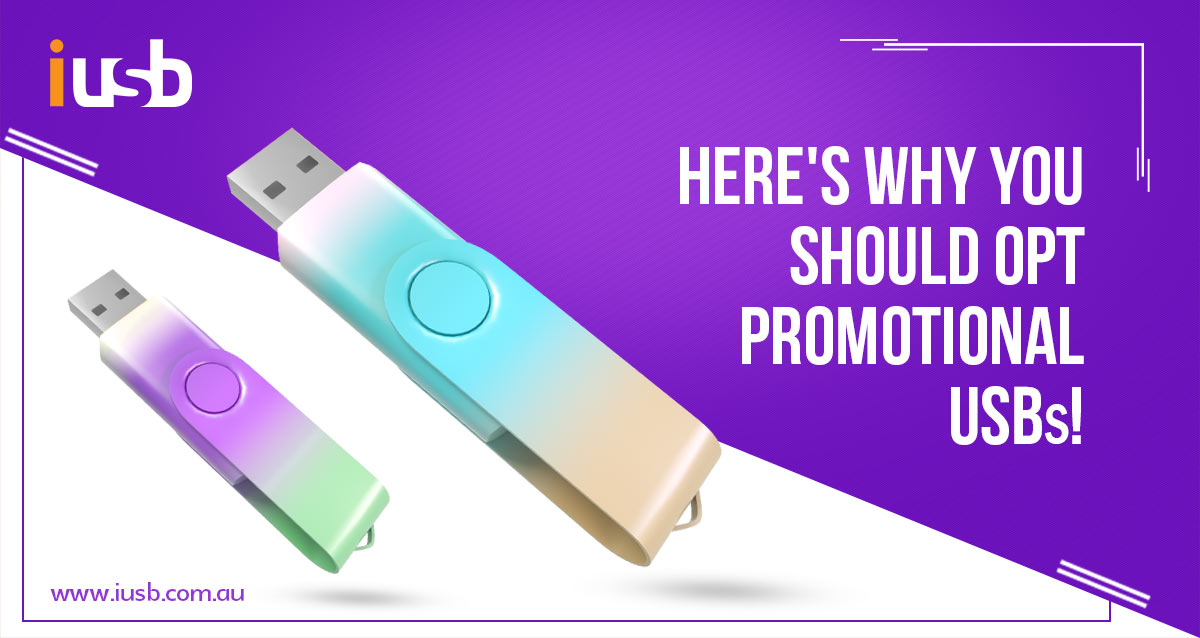 Are you wondering if custom branded USB sticks as promotional items will bring a drastic change in how your clients or customers view you? If you think that, you are manoeuvring along with the trend and finally getting in the game with your competitors. And maybe even standing out to create your unique brand image and voice among your clients.
Branded flash drives as promotional items, well it might have sounded like it was from a fantasy earlier, but not anymore! In recent times, every kid to parent, every student to businessman, all of them use USB drives and hence branded USB sticks; Australia and the worldwide market have seen a jump and are one of the effective marketing strategies that are bound to work.
Not sure how it works? Don't worry! We are here to discuss everything about promotional USB drives and more and help you see the larger picture in this era of custom branded USBs as promotional items.
Why Go for Branded USB Sticks, Australia or Anywhere Else?
The custom branded USBs have put coffee mugs and t-shirts far behind as promotional items and have come a long way ahead for the below-given reasons:
Make you Stand Out: When everyone in a trade-show is giving away t-shirts that might not fit, or coffee mugs that are big, heavy and breakable or made of plastic, and you hand out custom branded USB sticks that appear like an expensive gift when compared to the other two, you already are noticeable over those.
Ensures friendly communication: When you grab the clients attention in a business meeting or a trade show with promotional USB drives, you have already seized the opportunity to start a friendly communication with them. It is known from many surveys that the more free things you give away, especially when they are handy, the more communications go favourably.
Affordable: The branded flash drives give an expensive feel to them. However, they are not, and the benefits they provide outweigh any other cheaper options, including flyers, which you are not even sure if people look at them anymore.
Ease-of-use: The mobile phones accommodating the USBs and the ease USBs provide to carry around any data are reasons majorly enough to go for custom branded USB sticks, Australia and anywhere else. But, that is not the end of it; we have more uses for branded flash drives.
Portability: Just like giving away something heavy that isn't easily commutable, it could get lost in a corner carrying dust! Although, a custom branded USB stick is highly portable, functional and bound to go from one person to another, broadening your brand reach.
Eco-friendly: USB sticks help you go paperless while also providing a secure way to transfer your data or store it, making it an eco-friendly option over the traditional way. Giving your agreement after a meeting for the client to read or a presentation to have a second, third or any number of looks at the same works out effectively in serving both the purposes of delivering safe data in an eco-friendly manner.
Now that you know why you should consider custom branded USB sticks, here are a few tips that will help you get what you need and want.
Things to Keep in Mind Before Ordering Bulk Custom Branded USB Sticks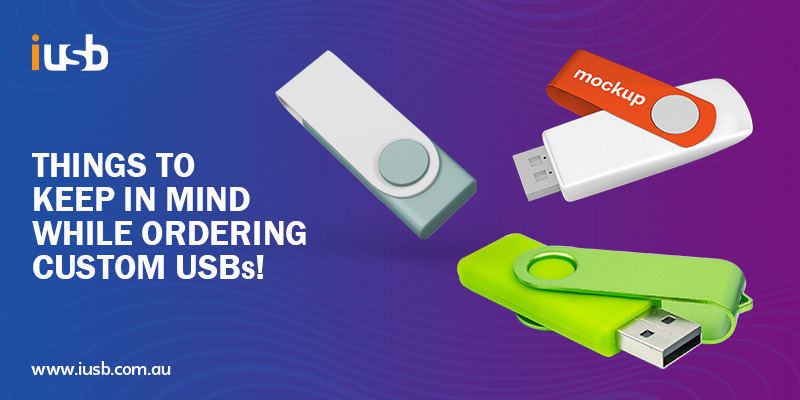 It is not just about ordering promotional USB drives but, it is more about ordering the right kind that helps you carry your brand, its voice intact and make the statement that you want to make with your branding. Here are a few factors you should consider before ordering custom branded USB sticks, Australia or otherwise.
Quality: Compromising the quality of the branded flash drives can do more harm than the benefit it provides you. While you are trying to imbibe your brand and logo in the user's mind, having a low-quality promotional USB is bound to create a negative one when it breaks, physically or even more dangerously falls prey to a data breach.
Style statement: Giving away a promotional USB drive helps you stand out, but it is in your hand to decide how you want to stand out. Whether use USB flash drives made of plastic, metal or a different material, carrying your logo, tagline or both and the variety of shapes and sizes it comes in for you to choose from for your custom branded USBs. Let the promotional USBs reflect and broaden your brand reach.\
Storage capacity: In this day, data is everything, and the storage capacity of the custom branded USB sticks that you want to use for promoting your brand can have 32GB, 64GB, 128GB, or higher, you can decide based on the purpose you want the USB flash drives to serve.
Printing options: Whether you want to print your logo or engrave it, choosing the right printing option, photo printing, screen printing or laser engraving matters a lot in various ways. It is also one of the deciding factors that make your promotional USB sticks cost-effective or otherwise.
Data services: You can choose the data you want the user to view as soon as the USB flash drive is put to use in multiple ways, including data pre-loading manner, USB autorun or having an extra security step that provides a USB file lock to protect the users/your data on it. These extensive data services come in handy when you want to use custom branded USB sticks in businesses where privacy is of the utmost importance.
iUSB, as one of the best promotional USB stick packaging & accessories providers with a turnaround time of 48 hours or less, we know and seamlessly guide you on your custom branded USB stick journey. Talk to our friendly consultants now.