A USB stick by itself is a functional, plain-looking item. Give that to someone as part of your brand promotion or as a gift and chances are it will lie forgotten in some corner. But if you create an aesthetically appealing USB drive, its value suddenly goes up. Further, give it custom USB packaging and now you have an item that will be looked at, as a highly useful and creative gift and not as a mere promotional object.
Personalized USB drives are very popular as marketing merchandise. They can be designed to reflect the brand in terms of color, shape, and branding. What sets them apart from other merchandise is their high utility value. So, customers retain them for their unique design and also for their use as portable storage devices.
Why do We Need to Opt for Printed USB Packaging?
So, now that you have decided to go ahead with custom-printed USBs, you may be wondering why you need to choose a USB packaging design. The foremost reason for this is that even though USB flash drives are fairly hardy, they can do with protection from scratches dust, etc. Encasing the memory stick will not only protect it from all this, but it will also give you additional space for branding or a personal message. It also gives you the chance to add in other items like a business card or brand booklet.
Adding printed USB packaging enhances the impact of the USB drive as a gift or marketing tool. It makes a statement about your brand and marks you as a business that is credible and cares about its customers.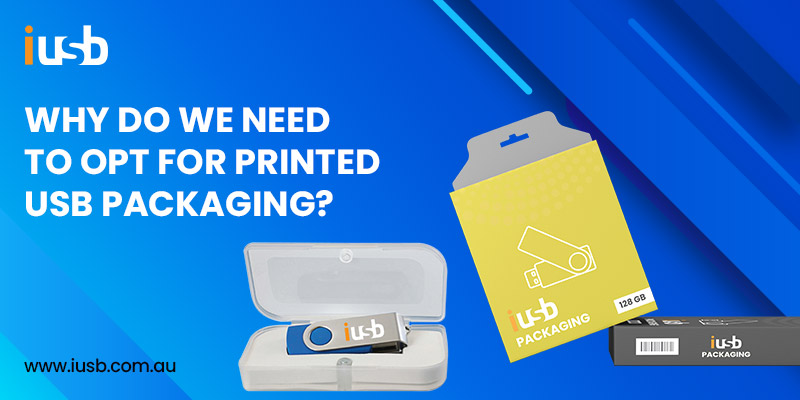 Tips for Selecting the Best USB Packaging
You could have the most innovatively designed USB stick but if it is not packaged well it will lose its impact and become a wasted opportunity for promoting your brand. So, we have listed a few useful tips you can follow so you don't go wrong with the design for your USB packaging.
Provide good protection – Do not lose sight of the primary aim of the packaging which is to protect the memory stick. So, choose a material that is sturdy so it can withstand transport. But it should also be light so that you don't take away from the portability benefit of USB drives.
Keep it simple – Choose packaging that is not complicated. The customer should not need a pair of scissors or a knife to pry open the packaging. Also, resist the temptation of making the packaging big enough to hold your brand leaflet, card, booklet, etc. Its size should be such that you can easily hand out the USB sticks at events and transport them to customers through the mail. Keeping it small and light will ensure that your customers can easily carry them around wherever they go.
Use its versatility – Use the versatility of USB packaging to choose something that will speak well for your brand. It can be shaped like your logo or product. If you are a luxury brand, you could choose elegant, bespoke packaging to reflect your brand values. Explore the whole range of options so you land on the best option for your business.
Use appropriate packing material – You may choose to add packing material to the USB packaging for added protection. Avoid anything that could leave scratches on the stick. You can use foam inserts or bubble wrap. Also, it is preferable to use anti-static material as memory sticks may be susceptible to electrostatic discharge.
Consider environmental impact – Make your USB packaging eco-friendly to reflect the values of your brand to your customers. To the extent possible, use eco-friendly materials and design the packaging for easy recycling.
Final Words
Promotional USB packaging greatly enhances the value of the USB stick as a gift. The above tips will help you choose a packaging design that not only protects the memory stick but also carries your brand messaging to your customers both old and new. Your customers will love to receive this highly useful gift in creative packaging and your brand will travel far and wide with them.
Iusb is a company that not only offers the best quality custom USB packaging but the best range of customizations and designs. From cardboard panels to tin or wooden boxes, we have you covered for all options. If you are stuck in the design phase, our in-house creative team can help you create a design that is aligned with your brand. With our low minimums, you needn't worry about unnecessary wastage. The best part is that all this comes to you at highly competitive rates and with fast turnarounds. So, what are you waiting for?