The 21st century saw the birth of USB flash drives to safely store digital data, such as files, pictures, audio, and even videos. Unlike Floppy disks, CDs and DVDs, USB sticks are known for their durability and are applicable for various applications.
The popularity of custom USB drives has increased where each person has one. The vital benefit of portability and data holding capacities have made them the ideal solution for storing and transferring data.
A custom USB drive is a life saver in an emergency data backup. A high-end custom USB drive comes in handy if you are overloaded with high-quality photos and videos on your smartphone or DSLR camera and need a spot data transfer. In addition to superior efficiency, bulk flash drives are an affordable buy and custom suited for large-scale company use.
You can buy bulk USB sticks if you have a photography workshop, office, and film production crew. With promotional discounts and the cheap price range, bulk USB drive orders are convenient to sponsor on a cost-on-company basis.
Buying bulk USB sticks can significantly cut costs for storage assistance. However, several factors still need to be met while purchasing bulk USB drives, including the primary purpose, data storage, transfer speeds, warranty, and privacy protection.
What is a Custom USB Flash Drive and its Functions?
USB is an abbreviation of the term "Universal Serial Bus" it's a storage device that conserves a large amount of data in flash memory with an integrated USB interface.
USB flash drives work with electronic devices such as personal computers, laptops, and smartphones without installing new drives by end-users to use the USB drive.
The USB flash drives run on an electrically erasable read-only memory. The USBs can also retain data even when not in use, making the USB drive ideal for the old-fashioned data storage methods such as floppy disks and CDS.
USB sticks with unique and compact designs that are resistant to electromagnetic emissions from other electrical appliances and scratch-resistant.
When you opt to buy bulk USB sticks for your workplace or office, it has built-in protection software to improve user security. The newly added protection function helps provide security and ease of mind for employees to store sensitive data.
What is the Purpose of Buying Bulk USB sticks?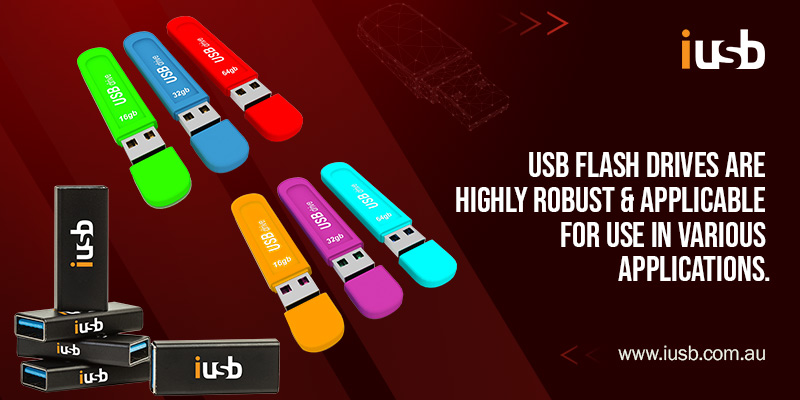 Suppose you run an organization where hundreds of employees need secondary storage to store vital information or even extensive data offline. So, buying bulk USB sticks is more affordable because it helps reduce the per flash drive cost.
Custom USB drives are a great marketing tool where clients and customers are given custom USB flash drives with logos printed on them. Partner with a reliable bulk USB drive producing company like iUSB is a producer of high-quality bulk USB sticks in Australia to customize any color, material, and content to deliver a unique experience to the customers.
In recent times, expos, trade shows, conferences, and seminars often have promotional giveaways on promotional USB flash drives. A single USB drive price varies with wholesale pricing, so buying bulk USB sticks is an economical way to save abundant money.
How to Choose a Buyer for Purchasing Bulk USB Drives?
When you buy bulk USB sticks, several aspects are to consider, including how often you transfer files, the type of data you intend to store in your USB flash drive, and how consistently you will be using the custom USB drives.
Make sure you compare the cost of custom USB drives with competitors, which helps make wise decisions and keep the price of bulk flash drives in mind. A customer's instinct is to buy the cheapest USB sticks, but it's vital to remember that the cheaper option is not intelligent for your well-organized business.
Customer service is another essential factor in buying bulk USB sticks. Many USB-producing companies don't have customer service if you receive many default damaged products. So make sure your bulk USB drives meet your needs and are safe to use.
Many companies online offer top-notch quality products with warranties but are wary of counterfeit products online that end up with a defective device, so make a wise option to buy bulk USB drives.
iUSB produces first-in-class bulk USB sticks in Australia for big companies and organizations and assures customer service availability. There are countless designs for buying bulk USB sticks and categories by use, functionality, characteristic, or level of security encryption.
Businesses need storage, and moving to the cloud is a better choice, but you can get customized bulk USB drives for offline use. Let's move away from our comfort zone and start experiencing USBs' with a modern touch, various designs, and features. Contact iUSB to get top-notch bulk USB sticks in Australia, and we deliver all around Australia.