Home » custom USB »
Things to Know While Buying a Custom Flash Drive to Promote Your Business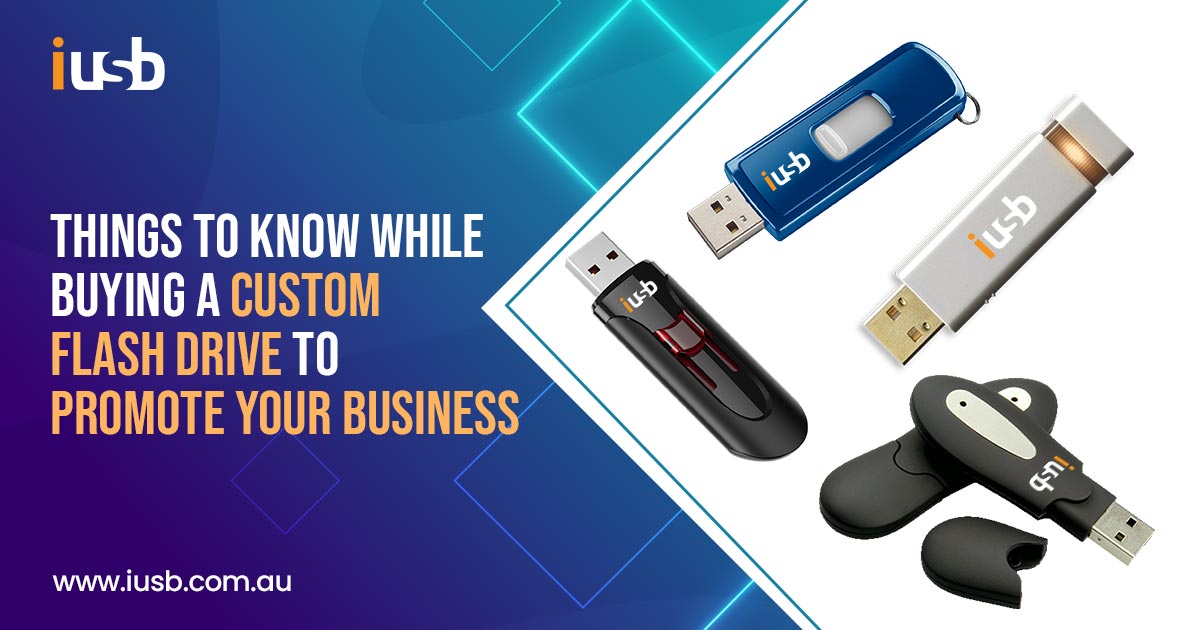 Businesses of all sizes are looking for innovative and affordable ways to market their brands today. Custom flash drives have become a familiar and efficient marketing strategy for numerous companies in recent years. The number of providers supplying them has also increased significantly due to their popularity. There are many custom USBs available in Australia, each with a different storage capacity, style, and level of quality.
Important points to consider while buying a custom flash drive:
Marketing Purpose
Flash drives are the perfect marketing tools. The front side of the drive should be printed with your company logo. Promoting your brand with custom branded USB at trade events might be a terrific method. In addition to their business cards, many business owners distribute them. Others prefer to put them on every seat before crucial meetings or in goody bags for charitable activities.
Bringing one to a professional presentation is a fantastic additional idea. Plug in your PowerPoint. After your presentation, give your audience members the flash drive. Every time they connect their custom printed USB drives, free advertising will be generated, and they will have access to the presentation whenever they want.
Transfer Sensitive Material
When you need to transfer sensitive information offline, custom USB Australia are fantastic option. You take away the possibility of sensitive records and papers being compromised.
Hackers can only access your data once you misplace your flash drive. Thus, you will need to know what you have on hand. It is a terrific approach to guarantee that documents remain in the right hands and maintain your anonymity simultaneously.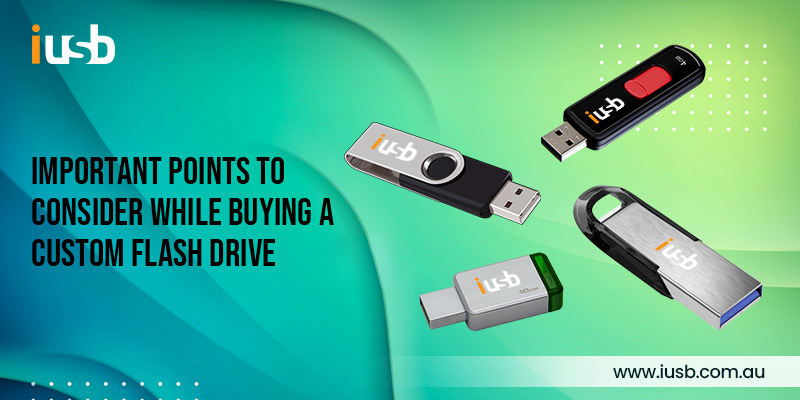 Memory quality
Not every custom flash drive is made equally. The most crucial element to consider when buying Custom flash drives is high-quality flash memory. Unfortunately, some fake players in the memory market offer low-grade, recycled memory chips. Sometimes poor memory is sold to you, the best-case scenario is that your USBs' read and write speeds degrade, and their shelf life is significantly shortened. The possibility that some or all drives will quickly develop corruption and stop working is higher. Verifying that a potential supplier offers brand-new, tier-1 memory is as simple as ensuring that the company that manufactured the chips for the supplier's chipsets is reputable.
Storage capacity
Custom flash drives can be ordered in various sizes, ranging from 64MB to 128 GB. Understanding the quantity of memory needed for your project is crucial because your cost per drive will rise as storage capacity increases. It is vital to remember that a custom USB Australia perceived worth increases with its size, and its possibility of being kept around longer by the receiver increases, providing more brand impressions.
Cost
When you get promotional USBs in Australia, you must consider your financial situation. There will be expenses associated with every element. The cost of printing will then need to be taken into account. When you speak with your provider, they offer a precise price quote that describes the type of printing that will be done, the colours that will be employed, and other factors. Before printing the custom printed USB drives, ask the provider if they can provide complimentary design services and show you the virtual version.
Design
Keeping a flash drive in a secure location can be challenging for many people. Many people will need help to place their USBs within a few weeks of owning them. Adding a valuable feature to your flash drive is simple: a little hole for a key ring. A tiny LED showing when the custom branded USB is in use is also a brilliant addition. When the USB is removed from the computer, it should turn off immediately, even if it is still plugged in.
Data service
Before you even receive your purchase, your provider can help you in several ways if you plan to utilise your promotional USB Australia for marketing. They can preload data onto each flash disc first. This could be anything from a presentation to a brochure or even a video. Additionally, when the flash drive is connected to a computer, they can select USB Auto Run, which will instantly launch any preloaded data.
By doing this, you can be confident that anybody who uses your personalised flash drive will have access to the data you intentionally placed there. Including the file, lock option makes sense when ordering custom branded USB drives for your office. It stops files from being deleted by mistake. This functionality is fantastic for contracts, specific client files, and other materials you want to retain.
Chip format
Although other USB chip formats are available, some USB models, like USB 2.0 and USB 3.0, are the most common USB chip formats for bespoke flash drives. These two generations of USB can be further divided into SLC, MLC, and TLC.
The essential point is that promotional USB Australia promises faster and more reliable performance. Experts are advising upgrading to USB 3.0 for any 8GB or more significant drives, even though USB 2.0 is typically acceptable for straightforward applications using smaller-capacity drives. If you intend to load large or numerous data, USB 3.0 devices become very crucial. Depending on your company size you can select your flash drivers.
Bottom line
Choosing custom branded USB is unquestionably a terrific method to market your company. By considering the above points you can buy your custom printed USB drives from iUSB. We are experienced and have thousands of custom USB styles with endless options. We provide free delivery both for the small run and the bulk orders on USB flash drives.
We offer unique promotional USB stick packaging and accessories. Also, we provide wooden customisable USBs that are natural and sustainable and come in various shapes and finishes. We take care of all the services from printing to data loading.