Home » custom USB »
What is the Price of Custom USB Sticks?
With the rise of technology and limited access to personal tech, the need for online personalization and customization has increased dramatically. Custom printed USB drives are a great way to make your brand stand out. They're just that—a USB drive that's been custom printed and designed with your logo and information so that it shows off your brand in a memorable and easy use.
Custom printed USB drives are the best way to get your business name on a product everyone carries around, giving you maximum reach. And with so many promotional products out there, it's hard to know where to get the best deals.iUSB has curated this blog to help you decide the factors that go into the cost of a custom USB flash drive.
What to expect when you order for printing of Custom USB sticks?
If you've ever wanted to have a personalized USB stick printed with your company logo, now is the time!
Custom USB printing is the perfect way to create a one-of-a-kind promotional product that your customers will love and remember.
When you order printing of custom USB sticks, you'll have a wide choice over the selection criteria. The following pointers depict your arena of options:
Choice of base materials for USBs
These are the foundation constituents from which USBs are made: Wooden bases, Metallic, or even Plastic bases.
Different printing techniques
There are various printing techniques on which printing can be carried out on USBs. Some of the popular ones include:

Full-color UV Printing
Screen printing
Laser engraving
Variable Print Data
Artwork setup or Graphic Design
Pantone Matching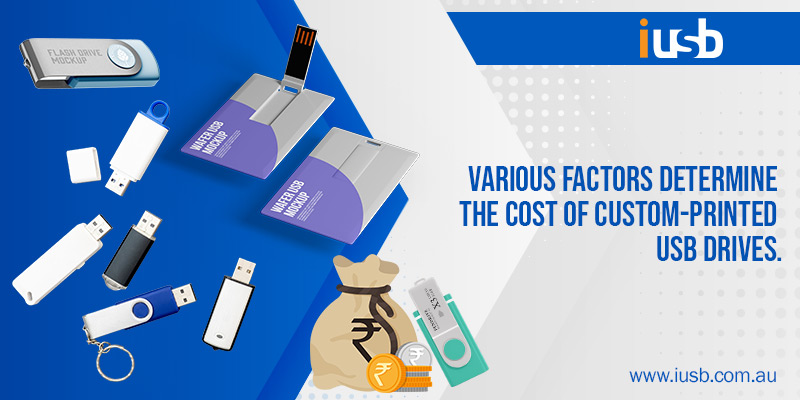 Diverse Styles of USBs
There are different types of promotional USB drives that you can order. They come in widespread sizes, shapes, and formats. Trendy or classic, there is every design to suit your needs.

Twister USBs -which are the most ordered ones.
Spinner USBs- Another from the family of twisters
Card USBs- Its large printing area makes way for vibrant graphics and photos
Metal USBs- The aluminum base makes it more sought after for big brands
Wooden USBs- With different sizes and color tones, it is the most sustainable.
Classic USBs- The usual USBs with a curved body and the lid.
Clip USBs- The ones that can be attached to documents or clothing
Retractor USBs- If you are tired of losing the lid, this one is for you. Which retracts back and forth on its own body.
Writer USBs- For a writer in you. USB comes imbibed into a pen which can also be used as a pointer. Whether you are a student or a working professional, this comes to good use.

These are some among the lot. There are lot more designs to explore, and you can even make your customized USB with the sizes and base materials available.
Personalized stickers for your business's name, address, phone number, website URL, and more
A USB stick with your unique branding on it (or stickers to put on it instead of printing)
The cost of a personalized USB stick
Promotional USB drives are the perfect way to store and share files between friends, colleagues, or even your family members.
But what about the price? How much does it cost to make a USB stick?
The answer: it depends. Many factors go into calculating the price of a USB stick, including printing costs and shipping expenses.
We've done the math for you to know exactly what you're getting when you order from us!
Request a quote from iUSB to know more details.
Factors that decide the cost of a Custom USB flash drive
The price of custom USB sticks varies based on how much information you want to put on them and how much time you want to invest in getting them there. The cost also majorly depends on the base material, colors, style of USBs, printing techniques, and much more.
Some of the deciding factors are:
Range or Base Materials you choose
Style of USBs
Body Colour or shell color
Print sides – 1 sided or both
Print Graphics
Memory Size – from 128MB to 128GB
Speed of USBs- USB 2.0 or USB 3.0
Pre-Data Load – From 2 GB to 30GB
Packaging of USBs- tin box or wooden box, or plastic box
Delivery options
Final words!!
The final price of a product depends on the number of USB drives you need and the kind of customization you want to enable on them.
At iUSB, we print custom drives only the way you want them. Our pricing is based on your choice of capacity, drive color, and quantity. The price to customize a USB Flash Drive may differ depending on the features you choose, such as additional printing, multi-size imprints, sturdy metallic foil packaging, and more.
However, if you are looking for a unique product that will be cherished for years, then our affordable price is just right.